Appetizers for wedding showers, bachelorette parties or any occasion
Appetizers have been one of my favorite foods for parties.  I am gathering recipes for Appetizers that I have made or had at a party. 
Appetizers
are also know as hors d'oeuvre and has been a huge part of dinners and get togethers for years. I am a huge fan of Appetizers and desserts and always look forward to them and would rather eat them as a main meal.  When I go to parties I would rather take appetizers or desserts because they are easier for me to make and they are more fun and interesting.  You can add booze to a lot of appetizers or desserts so that makes them more interesting and fun. I have always been known for my
Jello
and
Pudding Shots
because I don't use the typical vodka, I combine all sorts of booze to make them interesting and oh sooooo good.  Some of my Appetizers below have booze in them and some don't. There are so many recipes for Appetizers online but I am posting the ones that I like for looks, flavor and something that will spice up your party.  I like fun Appetizers that most people have never seen or had.  Use your imagination when making them as I did.  When I made the Fetti Cake Popcorn, I used the fetti colors of my granddaughter's birthday and I used red and green fetti for Christmas.  Use your wedding colors for the fetti or add food coloring and make them for your wedding shower and bachelorette party or any occasion. You can experiment with different colored chocolate too. Many of the recipes below can be used as Appetizers or desserts. See some my favorite
Jello
and
pudding shots
and 
party drinks.
   If you have some fun Appetizers to share, please email me with all the info
music@shopmysongs.com
.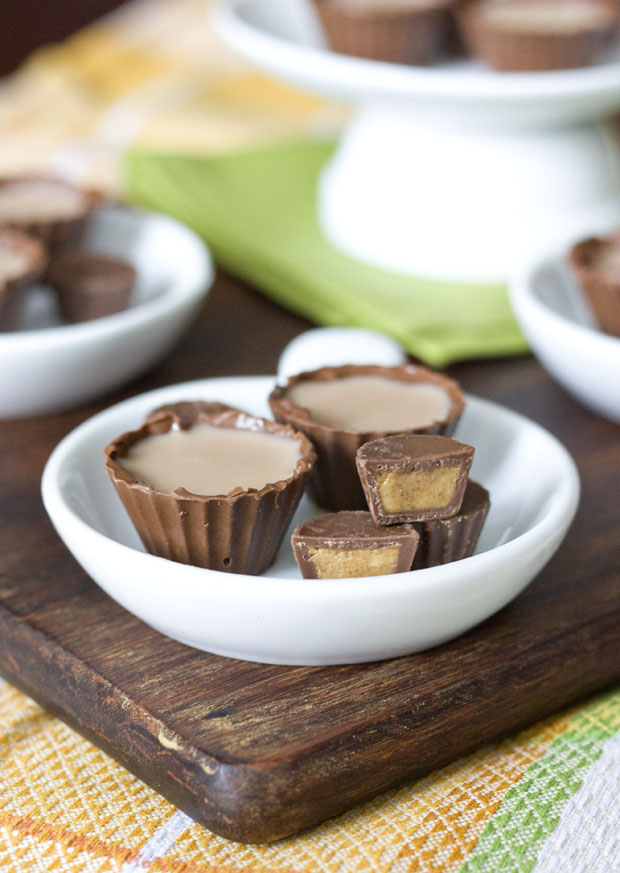 Peanut Butter Cup Shots
To make the peanut butter cup infused vodka
1/3 cup mini Reese's Peanut Butter Cups 1 cup vodka Combine peanut butter cups and vodka in a glass jar with a lid.  Store in a cool place for  7 to 10 days to infused the flavors. Shake the jar during the week to keep everything mixed up.  Strain the chocolate and keep the liquid in the frig till ready to use.
Peanut Butter Cup Centers 1 part peanut butter cup infused vodka (From Above) 1 part chocolate milk 1 part Bailey's Irish Cream 1 T. Melted peanut butter Mix together the infused vodka, chocolate milk, Bailey's, and the melted peanut butter .  Pour into store bought or homemade cups and enjoy! Very easy to make and a big party hit!.
Salad with cranberries, pecans, fruit and veggies
Lettuce ( I use Sweet Baby Lettuce from Giant Eagle that is already cut up in bags) Cranberries Pecans – Caramelized or Plain.  (I use Plain To Save The Calories) Added Veggies – Peppers, Onions, Celery, Cucumber, Grape Tomatoes. Mandarin Oranges – Drain The Liquid Chicken (I Use Chicken Already Cut Up Fresh or Frozen) Gorgonzola Cheese Balsamic Vinaigrette Salad Dressing (I use
Walden Farms
0 Calories 0 Fat 0 Sugar per 2 Tbsp and it's Gluten Free) Mix all ingredients together, top with cheese and salad dressing – Easy – Easy – Easy! If you are taking this recipe to a party or get together, make everything a head of time and add the salad dressing and mandarin oranges right before serving it.  This salad has so many different textures and it looks pretty with all the different color fruits and veggies.  Feel free to add or omit any ingredients to make it your own. If you local grocery store doesn't carry Walden Farms Salad Dressing, you can order online.
Popcorn Party Mix – Monster High with pink chocolate and M&M's
Ingredients: 1) 3 oz. Bag of Microwave Popcorn. 1 1/2 c. White Chocolate that can be tinted or any color you want. Oil To Thin Chocolate – Dipping chocolate is different from candy chocolate.  Dipping chocolate has oil already added. About 1/2 c. Sprinkles or fetti – Sugar sprinkles are too sweet with the chocolate. M&M's, peanuts, roasted nuts or whatever you want. Popcorn makes great appetizers, snacks or desserts.  Melt the chocolate in the microwave, double boiler or
electric chocolate melter
. While chocolate is melting, pop the popcorn.  Spread the popcorn out on a large cookie sheet covered with wax paper or parchment paper to prevent the chocolate from sticking. Don't forget to pick out the unpopped kernels. When the chocolate is melted, pour it over the popcorn, top off with M&M's, sprinkles or whatever you want to add. The chocolate should be thin enough to pour over the popcorn.  Cool on the counter or in the frig.  Don't use water based food coloring, use one that is made for candy or the water based will effect the chocolate.  Don't get any water or steam in the chocolate or it will become lumpy. Change colors to match holidays or different occasions.
Chili – Gluten Free that can be made from mild to hot
Chili is one of my favorite appetizers. I found a great Chili Kit that you can season just the way you like it. It's called Chili Kit, by
Carroll Shelby's
.  The Chili Kit contains four seasoning packs that will let you customize the chili just the way you like it.  The four seasoning packs include chili seasoning, cayenne pepper, salt and masa flour.  The mesa flour is gluten free so this is a great chili to make for the people who have a gluten allergy. You'll Need 2 lb. ground meat ( I use 1 lb. turkey ground meat and 1 lb. turkey sausage) 1 – 8 oz. Can Tomato Sauce 2 – 8 oz. Cans Of Water (I substitute the water with diced tomatoes) Veggies – I use yellow, orange, green and red peppers, onions and carrots Cooking Instructions Brown meat and any veggies.  Drain fat.  Add tomato sauce, water or diced tomatoes, spice pack and salt. I don't use the salt, cayenne pepper or masa flour.  I keep all of them and will put the cayenne pepper in a separate bowl for people to sprinkle on who really like it hot. I save the mesa flour and use it when I make gravy or stew since my husband has a gluten allergy. I don't add beans because most people will not eat chili with beans. When I serve my chili I have dishes with shredded cheese, onions, nachos, sour cream and salsa.  After the meat is cooked and all the other ingredients are added I transfer into a crock pot and let simmer as long as I want. It's a great recipe to make a head of time so you can enjoy yourself at the party.  Appetizers are always fun to take to parties or make this into a main dish.
Hanky Pankies
(One of my favorite Appetizers) 1/2 pound
lean ground beef
1/2 pound
pork sausage or turkey sausage (hot or spicy is great)
1-1/2 teaspoons
chili powder
8 ounces
process cheese (Velveeta), shredded 24 slices snack rye bread Fresh parsley sprigs, stems removed (optional)
Directions In a large skillet, cook the beef and sausage over medium heat until no longer pink; drain. Add chili powder and cheese; cook and stir until cheese is melted. Spread a heaping tablespoonful onto each slice of bread. Place on a baking sheet. Bake at 350° for 12-15 minutes or until edges of bread begin to crisp. Garnish with parsley. Serve warm. Makes 2 dozen fast and easy appetizers.  
More on my blog
.
     
Rolo Pretzel Delights
Small pretzels ( I use gluten free due to celiac disease) Pecan halves Rolo caramels in milk chocolate Heat oven 350 degrees. Use parchment paper or aluminum foil on cookie sheet Place one pretzel on paper or foil and top with a Rolo Bake 3-5 minutes until Rolo softens but not melts Remove from oven and top with a pecan or another pretzel Awesome Appetizers that taste like a Pecan Turtle.  We have family members with
celiac disease
which is a gluten allergy so I used gluten free pretzels.
Fetti Cake Popcorn
6 cups popped pop corn (two bags microwave Kettle Corn or Popcorn) 1 1/2 cups white chocolate melted 1/2 cup white or yellow cake batter mix dry ( I use white
gluten free
) Add enough vegetable oil to thin out the chocolate About 1/2-3/4 cups Sprinkles (Get sprinkles with your wedding colors or match colors with different holidays or occasions)
Melt the  white chocolate in the microwave or double boiler
Add the vegetable oil little at a time Add the cake mix.(Dry cake mix)
Mix the popcorn with 1/2 the chocolate and 1/2 of the sprinkles while in the bowl.  Spread out the popcorn mixture on wax paper onto a cookie sheet and pour on the other 1/2 of the chocolate and then the rest of the sprinkles. Let the popcorn harden on counter or frig and enjoy!
Cookies and Cream Popcorn
Ingredients:
1 bag kettle corn or regular white popcorn 12 Oreos, crushed finely 6 oz vanilla candy melts
Directions:
Pop bag of popcorn according to package instructions Remove any unpopped kernels Mix the popcorn and crushed Oreos together until evenly distributed Melt candy melts in the microwave in 30 second intervals, mixing well in between until glossy and smooth or melt in double boiler (See picture on my page) Drizzle half of the candy melts over the popcorn and use a rubber spatula to coat evenly Add the rest of the candy melts and toss mixture gently for about a minute Spread mixture onto a large sheet of wax paper and allow candy coating to set completely – about 20 minutes.  Store in an airtight container.
Chocolate Brownie Pudding Shots
Yield: 48 brownie bites
Ingredients:
1 box brownie mix or homemade recipe of your choice – I use
Gluten Free Brownie Mix 
due to my husband having
Celiac disease
. 1 package instant chocolate pudding mix or (See my pudding shot recipes) 1-1/4 cup milk 3/4 cup flavored vodka (Pinnacle Whipped or Cake flavored is good)
Directions:
Prepare brownie batter according to package's instructions Grease mini muffin tins with baking spray and fill 3/4 of the way full Adjust the baking time for the brownies since baking the batter in such smaller shapes Checked after 10 minutes Let the brownie bites cool in the pans for 5 minutes, then transfer them to a wire rack. Use the other end of a wooden spoon or spatula to push down the centers of the brownie bites and use your fingers to form little wells in each of the brownie bites Transfer brownies to a cookie sheet and set aside To prepare the pudding, combine the pudding mix, milk, and vodka and whisk for 2 minutes Transfer to the fridge to set for 2 hours, then pour into brownie wells all the way to the top. (You'll have extra pudding that you can find another use for or just scrap). Serve immediately or store covered in the fridge for 1-2 days.
Fresh cherries or (maraschino cherries when fresh are out of season) I use maraschino Amaretto and Cherry Vodka– enough to cover the cherries.  Make it as strong or weak as you like.  I usually do 50/50. White chocolate chips Vegetable oil or coconut oil to thin the chocolate (I use coconut) With a knife, make small ¼-inch cuts into each fresh cherry. If using maraschino cherries, dump out juice and fill with vodka and amaretto.  Place the cherries into jars or containers and cover with Amaretto and vodka. Close each jar or container securely. Let cherries soak in the frig. for one to five days. I usually do 4-5 days. Drain the Amaretto and vodka. Pat down each cherry with a paper towel or cloth until each one is dry.  I let them sit on a paper towel while I am melting the chocolate Melt some of the white chocolate chips in the microwave or double boiler, adding vegetable oil as needed. Stir well. (You can buy or make a double boiler by placing a glass or metal bowl over a sauce pan. Make sure it fits tight so no steam or water gets into the chocolate. I use my chocolate melter by Wilton. By its stem, dip each cherry into the white chocolate. Place the cherries on to a non-stick baking sheet or wax paper. Refrigerate to set for at least 15 minutes before serving. I usually double dip them after the first layer is hard. These can be made a day ahead time.
Layered Rigatoni
2 lbs. Noodles (I use Gluten free
Pasta d' Oro
noodles because of gluten allergy) 2 lbs. Ground Meat ( I have used ground sirloin and also turkey) 2 lbs. Sausage ( I use turkey sausage) 2) 24 oz. Pasta Sauce 2) 14 oz. Pizza Sauce 2) 12 oz. Tomato Paste 2) 15 oz. Tomato Sauce 4 Packs Mozzarella Cheese Parmesan Cheese Add seasoning like oregano, parsley, garlic and/or Italian seasoning. Add veggie's like , onion, peppers, mushrooms, zucchini, spinach or whatever you lile. Bake 300 degrees for 2 hours – Really watch baking time for the first couple of times making the rigatoni and how thick it is.  The thickness will be determined on how many pans you decide to use. Cook noodles according to box recipe. While noodles are cooking, brown meat, sausage and any veggies you added, set aside. Combine all sauces, set aside. Drain noodles and start to layer the Rigatoni. First put some sauce at the bottom of the pan you are using. (Sometimes I spray the bottom with Pam)  Second, start to layer the rigatoni starting with the the noodles, then meat, cheese and top it with more sauce.  Repeat the steps until everything is gone.  You may have left over sauce that you can use to serve over the Rigatoni. Some times I bake in a half sheet cake pan or I divide the Rigatoni up between a couple pans to keep some warm.  I also serve mine in chaffers and stenos that I bought a a party store. They are great to keep things warm without over cooking them.  Keep the Parmesan cheese for topping the Rigatoni. Once you have everything layered, just bake and serve.  I like making dishes like this so my clean up is done a couple hours a head of time. You can cut the recipe in half for smaller crowds.   Enjoy!!!
Cordial and Toasting Cups
Buy Cordial and toasting cups online or a local supply store Fill them with: Bailey's Irish Cream Caramel Vodka or Liqueur Amaretto Or any
Jell-O
or
Pudding shot
recipe.
Home made double boiler vs store bought
   I have this and it is great for melting chocolate