Fall Wedding Favor Ideas

Caramel and Candy Apples
Fall wedding favor ideas are caramel or candy apples. Packaged the apples individually and tie them with a ribbon that matches your colors. Make some with and without nuts for the guests that have allergies, they will appreciate that you thought of them. You can have them at the tables as part of the decorations or have your guests take them when they leave. You can also add a saying or you names attached to the ribbon.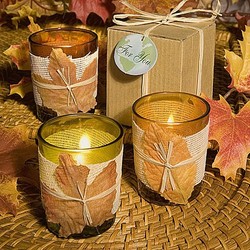 Candles
You can make or buy candles for your fall wedding favors with fall scents like Gingerbread, Vanilla, Autumn Harvest, Nut Bread, Clove, Cinnamon, Mulberry, Pumpkin Pie, Rum Spice and the list goes on. Have them tinted colors of orange, yellow, red, brown or have the colors match your dress colors. They can a part of your table decorations.

Chocolates
Chocolates in shapes of leaves or traditional hearts can be a yummy fall wedding favor idea. Make some in white and tint them the colors of your wedding. You can also wrap them in clear wrap with a ribbon and a personalized tag.
Soaps
You can make or buy the soaps for your fall wedding favors. Check your local craft store or search online. Soap in the shape of a maple leaf would be a great idea.

Honey
Personalized honey or jelly jars will add a great touch to your fall wedding.
Coffee or Tea Bags
You can get personalized coffee or tea bags on line with your favorite flavors.
Lip Balm
Lip balm in tins or tubes with a picture of a leaf will bring the season theme into your fall wedding favors. Or you can have your pictures on it with a fall back ground.
Bottle Opener or Wine Stop
Is a great fall wedding favor idea and can double if your wedding is wine inspired.
If you can't find any of these fall wedding favor ideas at a local craft/party store, online is still your best option.